Rueters obtains secret (but discarded) first draft of Special Counsel Robert Mueller's public statement; changes forced by lead Trump Defense Counsel/Attorney General William Barr
30 May 2019
"Democracy Dies in Darkness….Right Now, It's Taking a Standing Eight Count"
By Andrew Squibley and Arthur Bushwhacker Co-Founders, Shiny Pates International
WASHINGTON, D.C. (RUETERS) — Special Counsel Robert Mueller told the country in a surprise televised appearance Wednesday his investigation could not clear President Trump of obstruction of justice allegations. But in the first draft of Mueller's prepared remarks, Rueters has learned, he went much further in his allegations of Trump's active conspiracy with the Russians and obstruction of justice.
In a nine-minute statement delivered to a nearly empty Department of Justice press briefing room, Mueller notably stated: "[I]f we had had confidence that the president clearly did not commit a crime we would have said so." His first draft, which was sharply watered down, however, stated flatly Trump remains "in the pockets" of Russian President Vladimir Putin and did virtually everything in his power ("a shitload") to stop or cripple the investigation into his collusion with the Russians.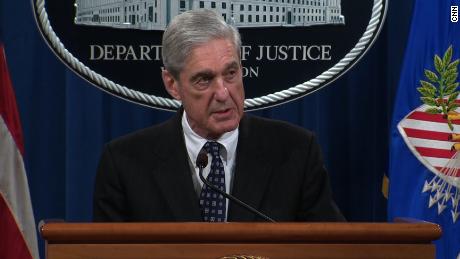 Special Counsel Robert S. Mueller III tells the nation in a televised appearance he and his investigators had no confidence in the president's self-proclaimed innocence of obstruction of justice in the Russia probe. But he also had some other things to say about the president's criminal actions. (Photo by Rueters)
Sources inside the Department of Justice with knowledge of what Mueller's intended statement said initially told Rueters that Attorney General William Barr, Trump's unofficial lead attorney, insisted on removing so-called "incendiary" comments written by the special counsel. "Barr already acts like Trump's batboy," the source said on condition of anonymity. "He didn't want Mueller saying anything that made things worse for No. 45, regardless of the facts."
In Mueller's first public comments on the investigation since he was appointed special counsel two years ago, he emphasized that Justice Department guidelines — never tested in the courts — did not allow him to charge a sitting President.
But the Constitution does provide a clear path to removing an unfit president from office, Mueller penned in his first draft. "There's a better…way to solve this national dilemma — no, it's really a national disgrace — and that's by handing over everything we've found to Congress so it can launch impeachment hearings."
Barr slashed that and other language from Mueller's comments in a ham-handed effort to kill the pointed message: Trump's active role in seeking Russian interference in the 2016 election ("Russia, if you're listening…") and ill-conceived attempts at hampering or ending Mueller's investigation.
Mueller's First Draft for the American Public:
House Judiciary Chairman Jerry Nadler, whose committee would lead impeachment proceedings, said in a statement that Congress should now respond to Mueller's findings.
"Given that special counsel Mueller was unable to pursue criminal charges against the President, it falls to Congress to respond to the crimes, lies and other wrongdoing of President Trump — and we will do so," Nadler said.
"At this point all options are on the table, and nothing should be ruled out," the New York Democrat told reporters about a possible impeachment inquiry.
-30-
Bonus Feature for Readers of NewsmakerBlog.com:
Here you see it…..

Now you don't
Why this feature? Because it's too fucking funny to pass up.
Some nitwit in the White House told the Navy before President Trump's recent trip to Japan he didn't want the "Orange Menace" to see the name of his hated nemesis, the late US Sen. John S. McCain, on the so-named guided missile destroyer currently anchored in Tokyo harbor — lest he go ballistic.
To its everlasting credit, the Navy came up with an elegant solution: Turn on the ship's "stealth mode." There it is, in the right photo, docked in the first berth at Tokyo. "It's like it's under the damn Invisibility Cloak" of Harry Potter, said one petty officer.
The Navy told Rueters three other recently commissioned stealth destroyers also were docked in Tokyo alongside the McCain — all in stealth mode for obvious reasons — the USS Mueller, USS Sessions, and USS Comey, each on a mission to search and destroy.
-30-